Scars Across Humanity Post 6
Chapter three: Female Genital Mutilation
 
'The pain of circumcision is like a heavy burden I always carry with me. It is like darkness in my life, in my chest. You can never forget it.' FGM Survivor
Up to 140 million women worldwide have undergone female genital mutilation or cutting (FGM/C). That equates to more than twice the entire population of the UK. Women who have endured this process assure me that it is something that stays forever in the memory, and it often revisits them without warning.  A Sudanese writer recalls her own experience of being cut at the age of six:
"Despite the passage of twelve years, the scene still remains vivid in my memory. From the moment the horrendous experience has begun, and until the last day of your life, it will never cease to torment you. I will never forget the faint sound of the scissor cut- ting my flesh four times, the stitching four times or relative hideous pain in urination or retention, the accompanying complications and the nightmares of vicious cycle of cutting-stitching-cutting and legacy of hereditary pain."
A report on FGM issued by the UK government in 2014 suggested that around 140,0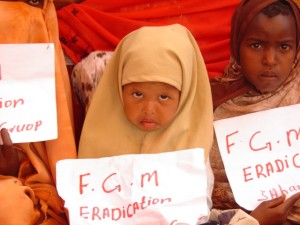 00 women in England and Wales are living with the consequences of FGM and around 10,000 girls under the age of 15 are likely to undergo cutting.
Female genital mutilation has no known health benefits, in any of its forms. On the contrary, it is known to be harmful to girls and women in many ways and is extremely painful and traumatic. The procedure involves cutting off the clitoris, and, depending on the extent of the process, other parts of the external genitals may also be excised. Three main forms of FGM are practised. . . . . .
read more in Scars Across Humanity